24x7 Statistics Help Online (Chat Now)
Need help with stats? Chat now with our experts and get the best statistics help online. We also provide stats homework help for our students.
Get Instant Help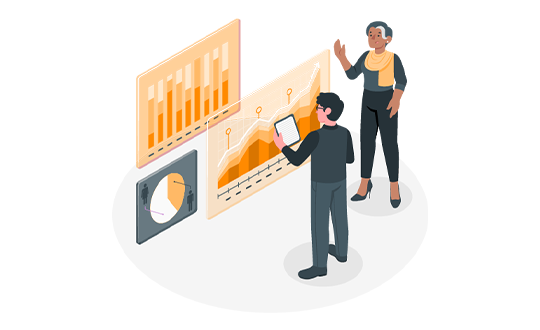 Why are we best to help you?
Qualified & professional stats experts to help you
24x7 support to resolve your queries
Top rated statistics experts
Affordable pricing for students
Statistics Homework or Assignment Help
Our qualified tutors are ready to provide their expertise and assist you with all your assignments and queries. We are available 24x7! Reach us at any time to get your queries solved.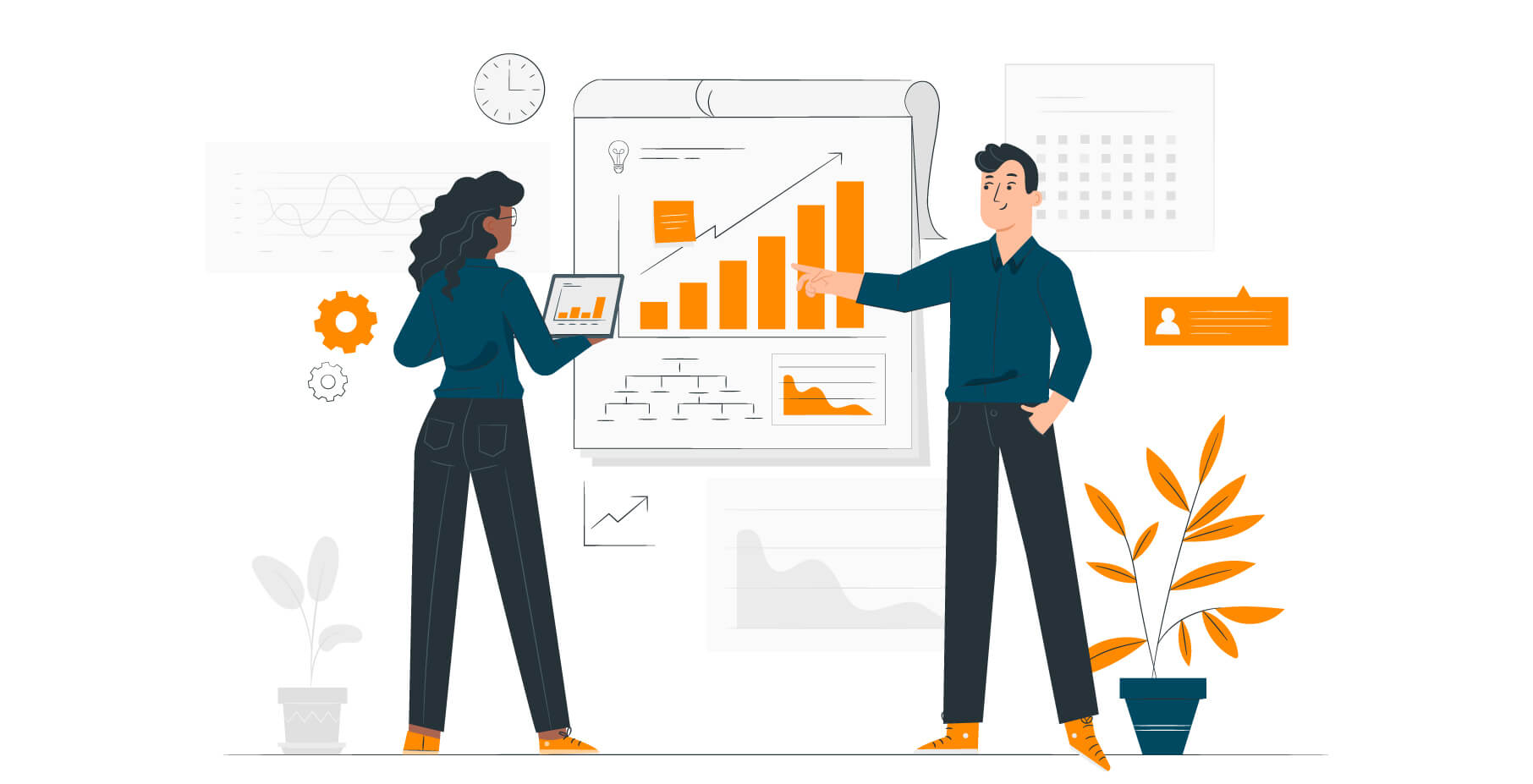 Need Statistics Help Online?
Statistics is considered one of the most challenging subjects among computer science students. But being proficient in stats has become very critical for students to succeed in fields like data science and machine learning.
So if you are looking for assistance with your statistics homework or stuck with a difficult assignment due the next day? We have experts who can connect with you online to help you solve your assignments at any time of the day, with our 24x7 helpline available to clear all your doubts and ace your assignments.
About Statistics
Statistics is the science of learning from data, and of measuring, controlling, and communicating uncertainty. Statistics is based on the field of probability in mathematics. Data collection, analysis, interpretation, presentation, and organization are all topics that fall under the umbrella of statistics, a subfield of mathematics. Based on a sample of the data, stats are used to infer something about a population or a particular set of data. Numerous fields employ statistics, including business, healthcare, sports, and forecasting the weather.
Its Importance in the 21st Century
The explosion of data produced by modern technologies has made statistics more and more relevant in the twenty-first century. Here are some examples of trending statistical applications:
Big data: As a result of the massive amount of data that contemporary technology has produced, statistics are now crucial for understanding big data. Large datasets are analyzed and insights are drawn using methods like machine learning and data mining.
Predictive analytics: Based on past data, statistics are used to create predictions about occurrences that will occur in the future. Numerous sectors, including banking, healthcare, and marketing, use predictive analytics.
AI: the use of machine learning and artificial intelligence Machine learning and artificial intelligence both heavily rely on statistics. These devices produce predictions using statistical models.
Which topics do students need help with?
Some of the most typical areas in statistics where students may struggle are as follows:
Math prowess: Statistics calls for a firm grasp of mathematical ideas like algebra, calculus, and linear algebra, which can be difficult for some pupils.
Data analysis and interpretation: Making sense of data and drawing conclusions from it can be challenging for many pupils. In statistics, the ability to organize, present, and understand data is crucial.
Using statistical software: Many statistics courses mandate that students analyze data using programs like R, SAS, or SPSS. It could be challenging for some pupils to learn how to use these software packages. It can be challenging for students to comprehend how to properly convey statistical results, particularly when it comes to interpreting the findings of hypothesis testing.
Real-world context: It might be challenging for students to comprehend how statistics is employed in the real world and how it can be used to resolve real-world problems.
Why is Statistics so hard?
It includes numerous abstract ideas and mathematical calculations that can be challenging to comprehend and use.
It involves a solid mathematical foundation, particularly in algebra and calculus, which might be difficult for certain people.
For those without programming experience, using statistical tools and programming languages like R or SAS might be difficult.
Some people may find it challenging to comprehend how statistics is employed in the real world and how it may be used to solve real-world problems due to a lack of real-world context.
The fear of failing may also contribute to some people finding statistics difficult because it may deter them from striving to learn and comprehend the subject.
Overall, while statistics can be challenging, with the right resources, support, and mindset it can be learned and mastered.
How many days will it take to learn?
As everyone learns at a different rate, it is difficult to estimate the precise number of days needed to learn statistics. A college-level statistics course, however, is often estimated to last a semester of 15 to 16 weeks. It is essential to consider one's learning capabilities and time commitment.
Get the best Stats Homework Help
Students today are completely swamped with academic courses and homework assignments with short due dates; as a result, they may require urgent help with statistical questions to submit them on time and to adequately prepare for tests and exams. Our team of highly skilled professionals offers the best stats homework assistance at a fair price. Once you turn in your assignment, we'll review it and give you an estimated completion date. In addition to assisting you with your statistics assignment, we also provide step-by-step explanations of the assignment's requirements and solution. You can contact our specialists at any time to amend or adjust your assignment because they are available around the clock.

Reasons to choose FavTutor
Expert Tutors- We pride in our tutors who are experts in various subjects and provide excellent help to students for all their assignments, and help them secure better grades.
Specialize in International education- We have tutors across the world who deal with students in USA and Canada, and understand the details of international education.
Prompt delivery of assignments- With an extensive research, FavTutor aims to provide a timely delivery of your assignments. You will get adequate time to check your homework before submitting them.
Student-friendly pricing- We follow an affordable pricing structure, so that students can easily afford it with their pocket money and get value for each penny they spend.
Round the clock support- Our experts provide uninterrupted support to the students at any time of the day, and help them advance in their career.
3 Steps to Connect-
Get help in your assignment within minutes with these three easy steps: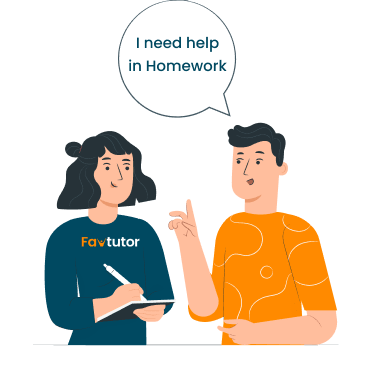 Step 1
Click on the Signup button below & register your query or assignment.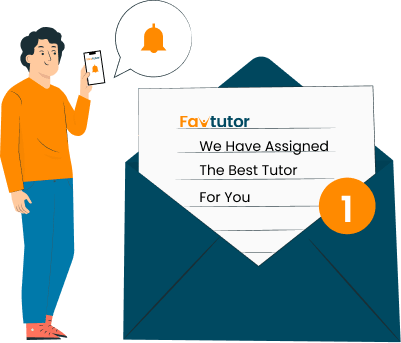 Step 2
You will be notified when we have assigned the best expert for your query.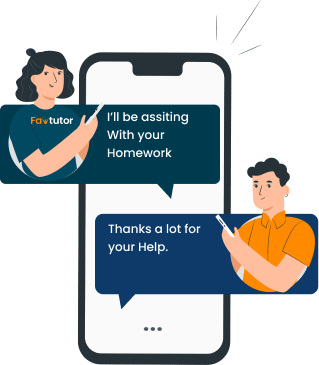 Step 3
Voila! You can start chatting with your tutor and get started with your learning.